DaVinci Maestro 2 Natural Bristle Brushes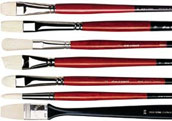 The strongest white hog bristle comes from the Chinese city of Chungking. Bristles are then double-boiled so they are not too stiff and to give them extra spring and life. Skilled workers at the DaVinci brush factory in Germany shape these bristles by hand to construct the finest Hog Bristle Brushes made. Seamless, nickle-plated brass ferrules ensure durability and are mounted on beautiful two tone handles. Choose DaVinci brushes in flat, bright, filbert, round and spalter designs.
Please choose a subcategory below.