Drafting Inks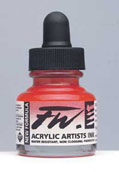 Made expressly for technical pens, these inks are intensely black and permanent. Kohinoor Universal inks work well on drafting mylar or film. Higgins Black Magic and Kohinoor Rapidraw contain a latex additive for the blackest ink available while allowing quicker drawing on drafting film. FW Acrylic colored inks are pigmented to prevent fading.
Please choose a subcategory below.
Choose from a variety of Rotring and Rapidograph Film and Drawing Inks.




Higgins Black Magic Ink is a blacker black ink specially formulated for use on drafting film and in technical pens.




FW Acrylic Inks are water resistant and non-clogging pigmented acrylic based inks. Choose from 38 vibrant colors.

Click here for complete color chart.