Dynasty Black Gold Synthetic Sable 1526 Series Brushes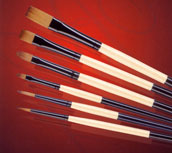 Dynasty Black Gold 1526 series paint brushes can be immediately identified by their black ferrules and varnished two-tone handles. Handles are kiln-dried for durability and feature seamless metal ferrules to provide safe, long lasting beauty. Available in rounds, flats, brights and filberts for oil or acrylic.
Please choose a subcategory below.