Dynasty Black Gold Synthetic Sable 206 Series Brushes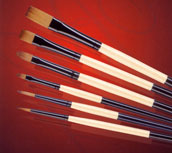 Known by their black ferrules and two-toned wood and black handles, the Dynasty Black Gold watercolor brushes rival expensive sable brushes in their water holding capacity. A perfect paint brush for watercolors, pen and ink and gouache. Durable and cleans out easily.
Please choose a subcategory below.