Fiber Tips for Fine Lines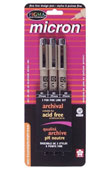 Sakura Pigma Micron pens were the first felt tip marker to ever be rated as archival by the US government. Fadeproof and waterproof, these markers are used by artists and watercolor painters for creating art that will stand the test of time. Available in over 15 sizes.
Please choose a subcategory below.
Pigma Micron Pens feature a fine point for drawing and writing, offering a waterproof, quick-drying pigment ink. Micron will not clog or dry out, unlike most technical pens and are excellent for technical drawings.




Choose from a variety of Sakura pens for all of your drawing and writing needs.