Robert Simmons White Sable Brushes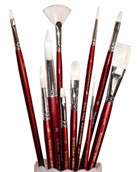 The original synthetic artist's paint brush, The Robert Simmons White Sable brush was developed in the 1970's to offer a synthetic watercolor brush that could compete with the increasingly expensive Kolinsky Red Sable brushes. Made from different thicknesses of synthetic filaments, it can hold large amounts of color and has excellent snap and spring. Seamless nickel plated brass ferrules are attached to handles of beechwood from the forests of Maine. 15 shapes and sizes to choose from.
Please choose a subcategory below.
Robert Simmons Series 785 White Sable Watercolor Brushes are made from a combination of synthetic fibers that will perform almost as well as a red sable, but hold more color, clean easier, and last longer. You can use for oil, acrylic or watercolor. Available in sizes 0 to 14.