Silver Brush Atelier Quill Series Brushes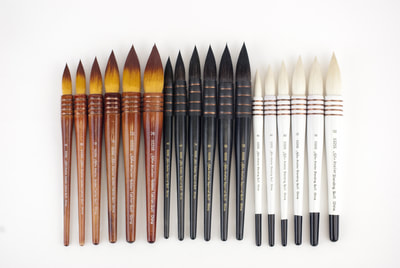 Introducing three different types of quills for watercolor, acrylics and blending. Choose the Atelier Quill squirrel hair brushes for watercolors. Golden Taklon #5225S for acrylics, oils and watercolors and white goat hair blenders that are perfect for all media. The #5025S squirrel hair quills are silky smooth. They hold maximum amount of color. Color flows onto silk or paper in sweeping strokes and adds detail-blending marks to your painting.
The Golden Taklon quills will bring a maximum amount of color to your surface. Perfect for backgrounds, details and blending colors. The #5325S white goat hair quills are perfect for oils, acrylics or watercolors.