Simmons Signet Natural Bristle Brushes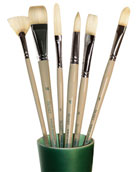 Robert Simmons' Signet paint brushes offer traditional handmade quality with pure hog bristles from Chungking province in China. Bristles are hand shaped for maximum durability and mounted into the distinctive green and tan handles known world wide as the symbol of quality. Available in 34 sizes from 0 to 20.
Please choose a subcategory below.