W&N Winton Natural Bristle Brushes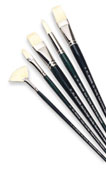 Winsor & Newton Winton Hog Paint Brushes combine excellent quality with economical prices resulting in a brush that sets the standard of quality in their price range. For use with oils or acrylics and available in 34 shapes and sizes from 1 to 16.
Please choose a subcategory below.