Winsor & Newton Artist Acrylic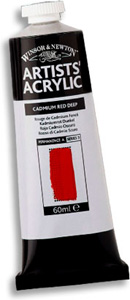 Winsor & Newton are proud to present the brightest ever range of Artists Acrylic. Not only are the colors brilliant when wet but they remain as bright when dry - so what you see is what you get. This acrylic range represents a significant breakthrough in achieving color brilliance and much more. Artists Acrylics are unrivaled in their brilliance and depth of color bringing exceptional richness and intensity to your paintings.
The working time with Artists Acrylic is approximately 20% longer than other acrylic paints - giving you more time to work before the acrylics dry.