Pantone Solid to Process Chip Pages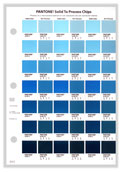 While Pantone no longer produces a Solid-to-Process Chips Book, Hyatt's has some of the replacement pages for previously purchased books. Unfortunately, some page numbers have sold out. Each page contains three chips each of seven different Pantone Process Colors with an accompanying rectangle of the closest Process match, all printed on coated stock.
Hyatt's has the world's largest inventory of Pantone replacement pages, ready for same business day shipping, for all of the Pantone chips books: solids, metallics, pastels, textiles, process and solid-to-process.