Pantone PLUS Solid Chip Pages Uncoated 4PK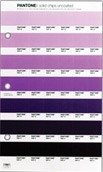 Pantone created new versions of their popular Solid Chip Books in January, 2005. These new books had featured larger Pantone chip pages, measuring 5.5"x 9.25", allowing for 25% larger chips of each color and larger type sizes for important descriptive information. As of May, 2010 Pantone has enhanced and replaced these pages with the new Pantone Plus Series Pages which feature 224 new colors. The colors and color formulations for the original colors have remained the same. The new color numbers begin at 7548. The colors have all been chromatically arranged by color hue families for more intuitive color selection.
Purchase any Pantone PLUS Uncoated page in a 4 pack and save!