SMART Textile Swatches 15-XXXX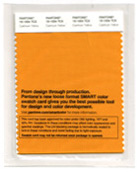 Hyatt's has the world's largest inventory of Pantone Fashion and Home Textile Color Swatch Cards, all ready for same business day shipping. These new 4" x 8" cotton swatches are doubled over and individually stored in a hermetically sealed UV protective clear envelope, and provide the most accurate and convenient way for designers to specify their color choices. By scrolling down the list below you will find color swatch numbers 15-0000 through 15-6442.
Sorry, no items in this category.