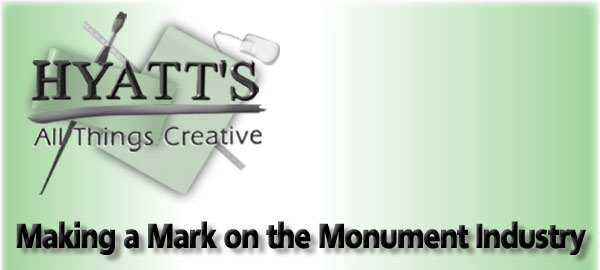 | | |
| --- | --- |
| WHO: | Welly's Monument Company Inc |
| LOCATION: | Tiffin OH |
| WEBSITE: | |
| CONTACT: | Tim Welly |
| PHONE: | (419) 447-9299 |
| EMAIL: | wellysmonument@gmail.com |
| PURCHASED: | Granite Impact Etcher Model CP (11/7/2012) |
COMMENTS:
| | |
| --- | --- |
| WHO: | Dodds Memorials |
| LOCATION: | Ottawa KS |
| WEBSITE: | |
| CONTACT: | Sharen Dodds |
| PHONE: | (785)242-3350 |
| EMAIL: | doddsmem@sbcglobal.com |
| PURCHASED: | Granite Impact Etcher Model CP (3/18/2010) |
COMMENTS:
Dodds Memorials purchased the compact (CP model) of the Granite Impact Etching Machine with the intention of using it for portraits. We have been well satisfied with the quality of the finished product. You would definitely need to buy the larger model if you want to do scenes. The tech support has been very helpful and professional and we would recommend using this machine to anyone who wants to get started doing their own portrait etchings.
COMMENTS:
I purchased this machine after seeing it work in the MAMBA-MBNA jam this spring, after looking at my records seeing how much we spend on Porcelain photos etc. I decided the purchase was feasible financially from this standpoint alone estimating 50% of my customers that would buy a Porcelain photo would purchase an engraved image. The ratio is actually in the 70% range opting for the engraved image. We are excited that we can offer in house a high quality engraving at a reasonable price, we are marketing the image at below porcelain prices, Thus the major shift to the engraving system. We are also working to develop a market in glass; I am still working to learn how to make a quality engraving on glass. From the initial public reactions to my first work the glass work is very favourable! In all we are very excited and pleased with the system, ALL of my customers are very pleased with the work that has been done on granite! Like all new tools it will take some work and effort to learn how to use the system, to learn the software, how to setup an impact folder for any type of material you are working with. THIS IS THE KEY to nice work, understanding how the machine works! Support has been very good for me, I purchased the system through Hyatt's Sign Supply, with Mr. Ron Clamps help, the learning curve has been acceptable for putting an expensive machine to work paying for itself!
COMMENTS:
COMMENTS:
COMMENTS:
COMMENTS:
COMMENTS: