Thermal Foils for Edge FX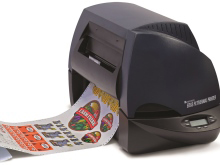 GerberColor, DuraCoat, and ZeroNine color cartridges or refills for the Gerber EDGE FX Series printers.
Please choose a subcategory below.
GerberColor Thermal Transfer Foils for the Gerber EDGE FX Digital Imaging System, manufactured by Gerber Scientific Products.




Duracoat brand thermal transfer refill ribbons by IIMAK for the Gerber Edge FX thermal transfer printer.




Zeronine NexGen Ribbon Chemistry consists of 37 colors ranging from spot, process, transparent and specialty foils. Zeronine's Legacy ribbons are the original formulation, known for value and vibrancy. See color chart.