Graphite Drawing Pencils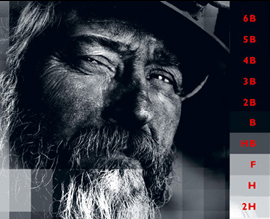 Graphite is a smooth grey-black mineral compound that makes dark marks yet erases easily. Choose from the hardest available - 9H - for light lines to the softest available - 9B - for dark, soft black lines. Hyatt's carries the brands you trust from Berol Turquoise, Derwent, Design 3800, Kimberly, General, Sanford, Cretacolor, Faber Castell & Kohinoor Hardtmuth.
Please choose a subcategory below.