W&N Graphic Markers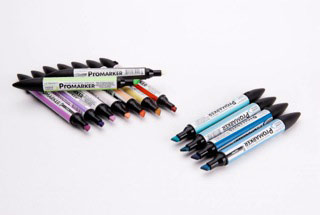 Winsor & Newton offers two different kinds of marker in three different product lines. Both the ProMarker and BrushMarker lines are alcohol-based dye markers and boast hundreds of different colors. With their quality nibs and inks, these markers provide flawless color lay down and consistent coverage. The revolutionary Pigment Markers, on the other hand, are unlike any other product on the market today. Their inks are actually made with professional grade pigment particles and open the doors to unprecedented possibilities. Chief among them is the exclusive White Blender, which allows you both to blend different markers together and to lighten shades for an almost limitless, paint-like palette.
Please choose a subcategory below.
ProMarkers are W&N's most versatile line of high-end, artist's markers. The line boasts 148 different colors from pastels to brights in transparent, alcohol-based ink that can be easily blended or overlaid for a variety of tones and effects. They are twin tipped, offering a broad, chisel-tipped end for filling in large areas and a fine-tipped end for details and line drawing. Their high quality nibs are durable and provide consistent coverage for the life of the marker. They can be used on any ink-resistant surface including glass, acetate, plastic, metal, wood, and of course, paper. The go-to marker for coloring book fanatics and professional illustrators alike, W&N ProMarkers are must have additions to every stripe of artist's collection.




Winsor and Newton's BrushMarkers offer the same high performance and versatility of their ProMarkers with one, important difference. Instead of a fine, pointed tip on one end, they have a longer, flexible "brush tip." These special brush tips offer an organic feel that responds to pressure and angle for more dynamic, gestural marks. If you want incomparable, precise line control, you need to try brush tips. With a range of 72 different colors that can be overlaid and blended with one another, as well as with W&N's ProMarkers, BrushMarkers offer an exciting way to expand your catalog of mark making techniques. Like W&N's ProMarkers, they feature alcohol-based, translucent, dye-based inks that can be used on any ink-resistant surface including: glass, acetate, plastic, metal, wood and paper.




Winsor and Newton's line of Pigment Markers represent the latest and greatest in marker technology. They feature a new, ergonomic design and sport a broad, chisel-tipped end and a fine-tipped end for detail. Their real innovation, however, is in the ink. It actually contains pigment particles in suspension, so the color sits on top of the paper as you lay it down, rather than soaking in, making for more vibrant, eye-popping hues. Those colors wont fade either because the professional grade pigments used are lightfast for up to 100 years - much longer than most dye based markers available today. The hallmark of the line, however, is the revolutionary White Blender, which exploits the properties of pigment ink and can be used to mix as well as to lighten the markers' shades. With more than one hundred colors available and the possibilities of the colorless and the White Blenders, W&N's Pigment Markers let you access an almost limitless palette. Because the color rests on top of the surface, these markers can even be re-wet after drying with either white or clear blenders, extending their working time far longer than any other marker out there. The potentials to blend, build, mix and re-wet these markers make working with them an almost paint-like experience that is unmatched by other products.