Screen Printing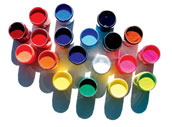 Speedball has taken all the nasty chemicals out of the screen printing process while making high quality water based acrylic inks that last & last! Use either the stencil method, the drawing method or the diazo photo emulsion method and make your own t-shirts, art work or signs over and over from the same screen! Replaces volatile and toxic chemicals such as those from Naz-Dar with non-toxic inks with water clean up!
Click here for complete color chart.
Please choose a subcategory below.