W&N Artists Watercolour Sable Brushes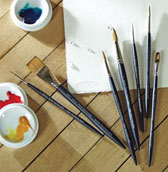 Made of quality Kolinsky the Winsor and Newton Artists Water Colour Sable has all of the qualities expected of the finest water colour brushes, except the expensive price. Series 7150 are Rounds in sizes 00 to 12, Pointed Rounds sizes 3 to 8, Rigger in sizes 1 to 6 and One Stoke sizes 1/8" to 1". All Winsor and Newton Water Colour brushes feature a distinctive double bodied shape handle with a satin matte finish to provide comfort while painting.
Please choose a subcategory below.