Createx Auto-Air Colors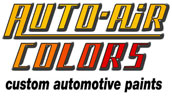 Createx Auto-Air Colors are durable paints intended for use as a base coat and graphic paint for automotive finishes and other exterior applications. Auto-Air should be top coated with a durable, urethane clear coat. Compatable with all urethane, waterborne and water-based paint systems.
Click here for a complete color chart.
Please choose a subcategory below.