Princeton Catalyst Brushes, Blades and Wedges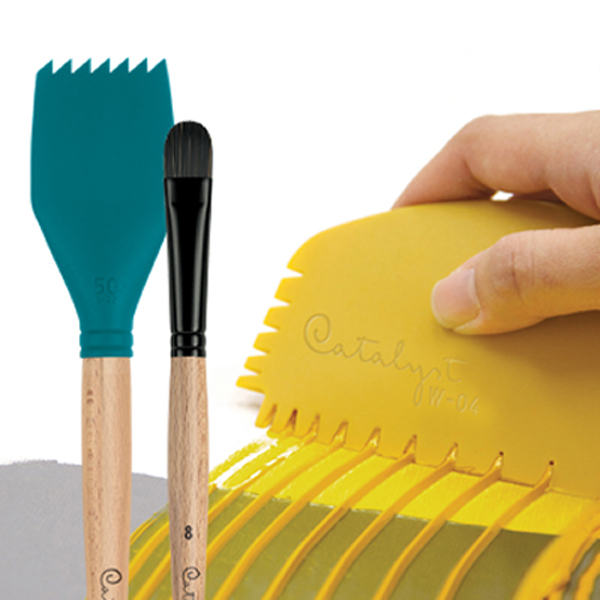 The Princeton Catalyst Collection offers new types of creative tools for the artist that are truly innovative. Catalyst Brushes are a new type of brush that has super stiff, but responsive bristles. Catalyst Blades and Wedges are made with flexible silicone that allows the artist to create unique textures and designs. The silicone is also FDA-approved so they may be used with food, such as in cake decorating.
Please choose a subcategory below.
Princeton Catalyst Brushes have a Polytip Bristle that is an innovation for synthetic hair as it holds its integrity in water. In addition, the tip of each brush hair has been split in order to replicate natural flags found on natural bristles. Since each individual hair has either 2 or 3 different tips, the brush can hold a higher volume of paint while maintaining a smooth application. Designed to be used with medium to heavy-body acrylics and oil paints.




The Princeton Catalyst Blades are a mixture of brush and palette knife to create a unique creative tool that can be used with paint, plaster, clay and more. The silicone is FDA-approved and heat resistant so it can be used in applications such as cake decorating and encaustics. Dried paint can be peeled off the silicone and usually clean-up only involves soap and water. Silicone is solvent resistant. Wood handles can be removed for cleaning and replacement.




The Princeton Catalyst Wedges are silicone tools made to be held comfortably in your hand as you use it create textures with heavy-bodied paint, plaster, clay, or even frosting. Silicone is FDA-approved for use with food and is heat-resistant to 450 degrees. Easy clean up with soap and water, or dried paint can be peeled off the silicone.