W&N Series 7 Miniature Kolinsky Sable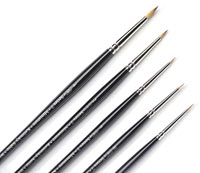 Winsor and Newton's Kolinsky Watercolor Brushes are the world's finest brushes made from tail hairs of the Siberian Kolinsky. Each brush has excellent spring and flow control, an unusually fine point and full English belly. The hair of these miniature brushes are comparitvely short out of the ferrule allowing for more accurate control. Used for fine watercolor, pen and ink and photo retouching. Great for intense detail work.
Sorry, no items in this category.