W&N Designers Gouache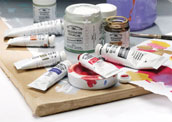 Winsor & Newton Designers Gouache is an opaque watercolor which has incredible hiding power and is extremely light fast. Available in over 82 colors they can be applied with brush, dip pen, ruling pen or airbrush. Colors are intense, solid and finely ground and dry to a dead flat finish which is perfect for camera ready illustrations. Unsurpassed quality.
Click here for complete color chart.