Artisan Watersoluble Oils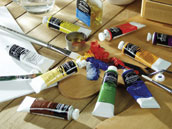 Winsor & Newton Artisan oil colors eliminate the need for toxic turpentine and mineral spirits by formulating their oil paints to clean up with soap and water. Great for smaller studios, schools or for use in areas without adequate ventilation. Also great for oil painters who have chemical sensitivities. Must be used with Artisan water mixable mediums and linseed oils to retain water clean up properties. 40 colors are available in 37 ml tubes. Similar to Grumbacher Max & Grumbacher Max2 water soluble oils.
Click here for complete color chart.