Jacquard Airbrush Color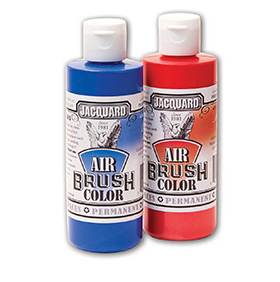 Jacquard Airbrush Color is a multi-surface, artist-grade, fluid acrylic airbrush paint that is acid-free. It is formulated for use on natural and synthetic fabric, leather, wood, paper, plastic, clay, metal and more! Paint can be heat set by using a heat gun on hard surfaces and dry iron on fabric to create permanent results. Jacquard Airbrush color's have excellent coverage and washfastness on fabric, leaving it soft to the touch. Use for multiple techniques including airbrushing, marbling, spritzing, painting, stamping, refilling markers and pen. Available in six intermixable varieties: Transparent, Opaque, Metallic, Fluorescent, Bright and Iridescent.
Please choose a subcategory below.