Speciality Panels and Boards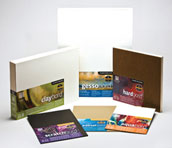 Claybord, Gessobord and Claybord Textured panels by Ampersand give artists an alternative to stretched canvas for artists preferring a rigid panel for drawings and paintings. Claybord Black is the ultimate scratchboard allowing infinite detail as well as the ability to correct mistakes with Higgins India ink. These panels are very durable and allow multiple erasures without affecting the drawing or painting surface. Cradled boards add a 3/4" or 2" frame of birch plywood for depth and extra rigidity.
Please choose a subcategory below.