Monarch Synthetic Mongoose Brushes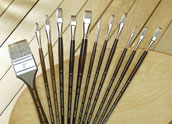 Winsor & Newton Monarch Synthetic Mongoose paint brushes are more durable than any natural hair but retain the look and feel of real mongoose. Solvent resistant, they are great for oil painting. Made with gold ferrules, dark brown handles and variegated fibers that even look like real hair. Recommended by many teachers because of their durabilty and easy cleaning. Available in bright, flat, round, fan, glazing, filbert and short filbert shapes.
Please choose a subcategory below.