Liquitex Soft Body Acrylics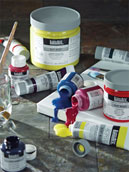 Liquitex makes acrylics in three consistencies: Soft Body, Heavy Body, and Super Heavy Body. All three have the same amount of pigment per ounce of product. But, each is mixed with a different medium which controls how the pigment molecules slide past each other when pushed by a brush or painting knife. The Soft Body acrylics slide easily for painting in thinner layers or on cloth and leather.
Click here for complete color chart.