Holbein Artist Oils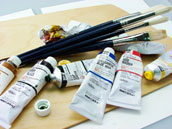 Holbein Artist Oil Color is a world-class professional oil color formulated to perform to the highest standards of oil painting. Pure pigments are mixed with cold pressed linseed oil to make 167 beautiful colors of Holbein oil paint including 7 whites and 10 transparent glazing colors. Also available are 4 shades of fast drying Foundation colors which truly make the Holbein paint line one of the most complete available! Made in Japan since the turn of the century, they are traditionally mixed to a constant viscosity from color to color for uniform mixing.
Please choose a subcategory below.
Holbein Artist Oil Colors in 110ml tubes.